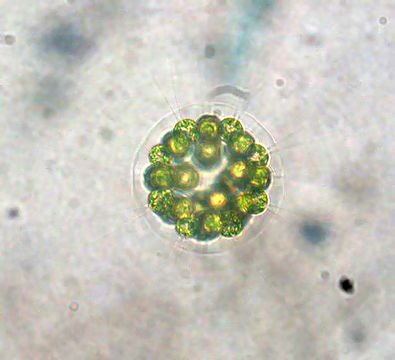 Description:
Summary[edit] DescriptionAPI Light microscopy of Eudorina sp. from rice field in Wakayama Pref., Japan ; original comment: ユードリナの1種。鞭毛をもつ単細胞藻体が寒天質の中にならんでいる。いわゆる細胞群体の例。和歌山県・水田の泥から。2005å¹´6月。顕微鏡接眼レンズ押しつけ撮影にて。 Date 2005/6 (copied 2007/6/8) Source copied from ja:画像:Eudrina sp.jpg Author çªç´ é³¥ï¼ˆKeisotyo, http://www.aikis.or.jp/~keisotyo/), retouched by NEON (ja:利用者:NEON) Permission
(Reusing this file) Permission is granted to copy, distribute and/or modify this document under the terms of the GNU Free Documentation License, Version 1.2 or any later version published by the Free Software Foundation; with no Invariant Sections, no Front-Cover Texts, and no Back-Cover Texts. A copy of the license is included in the section entitled GNU Free Documentation License.http://www.gnu.org/copyleft/fdl.htmlGFDLGNU Free Documentation Licensetruetrue
This file is licensed under the Creative Commons Attribution-Share Alike 3.0 Unported license. This licensing tag was added to this file as part of the GFDL licensing update.http://creativecommons.org/licenses/by-sa/3.0/CC-BY-SA-3.0Creative Commons Attribution-Share Alike 3.0truetrue
Included On The Following Pages:
This image is not featured in any collections.
Source Information
original

partner site

ID

2217054