Chlamydomanas reinhardtii Flagella 6 - TEM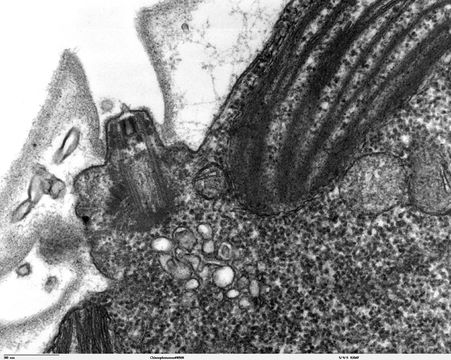 Description:
DescriptionAPI Transmission electron microscope image, showing an example of green algae (Chlorophyta). Chlamydomanas reinhardtii is a unicellular flagellate used as a model system in molecular genetics work and flagellar motility studies. This image shows the flagellar apparatus, just after flagellar excision, which occurs at the transition zone(see area of flagella, with its fibers of the stellate structure). This image also shows components of the contractile vacuoles which are located just below the flagellar apparatus. JEOL 100CX TEM Date 7 October 2006 Source Source and public domain notice at: http://remf.dartmouth.edu/imagesindex.html http://remf.dartmouth.edu/images/algaeTEM/source/11.html Author Elizabeth Smith, Louisa Howard, Erin Dymek (Dartmouth Electron Microscope Facility, Dartmouth College) Permission
(Reusing this file) Released into the public domain
Included On The Following Pages:
This image is not featured in any collections.
Source Information
creator

Elizabeth Smith, Louisa Howard, Erin Dymek (Dartmouth Electron Microscope Facility, Dartmouth College)

source

Source and public domain notice at:
original

partner site

ID

1253474