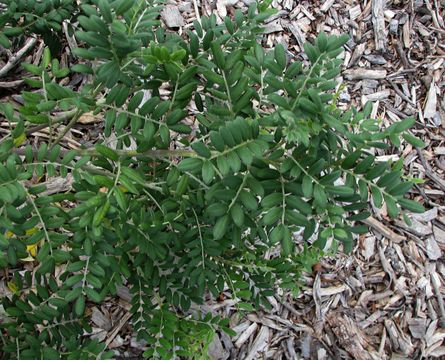 Description:
MmaneFabaceaeEndemic to the Hawaiian IslandsOahu (Cultivated); Oahu origin, "papa" or prostrate formYoung plant; no flowers yet.Early Hawaiians used the strong wood for posts, rafters and thatching posts or purlins in house (hale) construction. The wood was also fashioned into scraping board for olon (Touchardia latifolia) and farm spades. The wood was used as a superior fire wood.The bright yellow flowers were used in lei making.Mmane, or uhiuhi (Mezoneuron kavaiense), wood was also used for sled runners in a sport for the aristocrats called papa hlua. The slopes were usually made with layers of grass or ti leaves.Notes the Hulihee Palace website: "The person about to slide gripped the sled by the right hand grip, ran a few yard to the starting place, grasped the other hand grip with the left hand, threw himself forward with all his strength, fell flat on the sled and slid down the hill. His hands held the handgrips and the feet were braced against the last cross piece on the rear portion of the sled. The sport was extremely dangerous as the sleds attained high speed running down hill. Much skill was necessary to keep an even balance and to keep from running off the slide or overturning the sled. In competitions, the sled that went the farthest, won."In more recent times, the durable wood was used in fences years ago.The seeds can be strung on a beautiful permanent lei and flowers as temporary lei.Soaked seeds produce a bright yellow to amber colored water and possibly could be used to make a yellow dye.Wood is still used today to smoke meat.nativeplants.hawaii.edu/plant/view/Sophora_chrysophylla
Included On The Following Pages:
This image is not featured in any collections.
Source Information
license

copyright

David Eickhoff
original

partner site

ID

7925827708