Image of Chelidonura fulvipunctata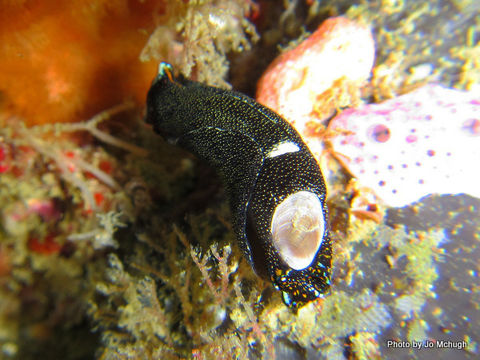 Description:
Posting courtesy of Wade Doak. Photos by Jo Mchugh This is a Speckled Swallow-tailed Sea Slug (Chelidonora fulvipunctata). It belongs to the group of sea slugs called head-shield slugs (Cephalaspidea) in which the head is covered by a protective shield of skin (head shield) and the rear of the body is covered by a second shield of skin (posterior shield). This animal is sick or has had an accident, so the skin from the posterior shield has been lost and the white underlying, disc-like shell is exposed. This is not a normal condition. This species is shown in two photos on the top of page 119 in Neville Colemenâ's book 1001 Nudibranchs and Neville made up the common name of White-speckled Chelidonura for it. This is only the third time Chelidonora fulvipunctata has been recorded from New Zealand and both the previous records also came from the Poor Knights Islands. Its occurrence in New Zealand was written up in the following article: Willan, R.C. & Perkins, A. 2011. Tropical marine species newly recorded from northern mainland New Zealand: one damselfish and three sea slugs. Pp. 79,86, figs 3,12. In: Kuric, A., Coutts, M. and Radjainia, M. (eds) Behind the Bubble Curtain: Auckland University Underwater Club 50th Anniversary Book. Auckland University Underwater Club: Auckland, New Zealand. Best wishes, Dr.Richard Willan
Included On The Following Pages:
This image is not featured in any collections.
Source Information
license

copyright

courtesy_of_wade_doak_marine_postings
original

partner site

ID

https://www.inaturalist.org/photos/1271250