Image of Hermeuptychia hermybius Grishin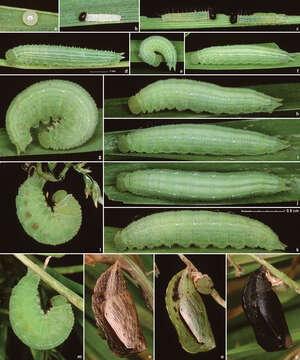 Description:
Figure 70.Life history of Hermeuptychia hermybius. USA: TX: Cameron County, E of Brownsville, ex ovum ex ♀ collected on 18-Jan-2003. a ovum, 23-Jan-2003 b–c 1st instars, photographed on 30-Jan & 1-Feb-2003, respectively b prior to feeding, thus is white in color, c shows two caterpillars in a typical "head-to-head" resting position d 2nd instar, 10-Feb-2003 e–f 3rd instars 14- & 15-Feb-2003 g–k 4th (ultimate) instars, 25- 28- 26- 26- & 25-Feb-2003 g is in a curled position adopted when disturbed; l–m prepupae, 26- & 23-Feb-2003 n–p pupae, 10-Mar 25-Feb & 4-Mar-2003 n is a brown form, shed larval skin is still attached near cremaster in o and p and is hanging behind the pupa in n, p near eclosion, dark adult is seen through semi-transparent pupal cuticle. Most images show different individuals, those that eclosed are paratypes. Images a–d are enlarged 2 times (scale on d) compared to the rest (scale on k).
Included On The Following Pages:
This image is not featured in any collections.
Source Information
license

copyright

Qian Cong, Nick V. Grishin
bibliographic citation

Cong Q, Grishin N (2014) A new Hermeuptychia (Lepidoptera, Nymphalidae, Satyrinae) is sympatric and synchronic with H. sosybius in southeast US coastal plains, while another new Hermeuptychia species – not hermes – inhabits south Texas and northeast Mexico ZooKeys 379: 43–91
original

partner site

ID

zookeys.379.6394.sp_2_p_9