Image of Chitonida Thiele 1909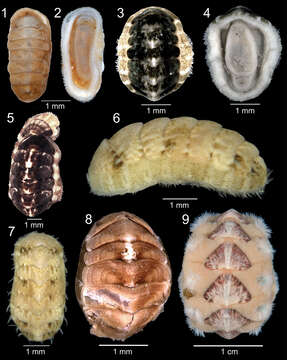 Description:
Figures 1–9.Shallow polyplacophorans from the Azores. 1–2 Hanleya hanleyi (Bean in Thorpe, 1844), DBUA 551 (Flores, Porto da Baleia) 3–4 Lepidochitona cf. canariensis (Thiele, 1909), DBUA 356 (Formigas Islets, intertidal) 5 Lepidochitona piceola (Shuttleworth, 1853), DBUA 743 (São Miguel Island, Baía do Rosto do Cão, intertidal) 6–7 Lepidochitona simrothi (Thiele, 1902), DBUA 459 (Pico, Lajes do Pico, intertidal) 8 Tonicella rubra (Linnaeus, 1767), DBUA 891 (D. João de Castro seamount, 20 m depth) 9 Acanthochitona fascicularis (Linnaeus, 1767), DBUA 667 (Pico, Lajes do Pico, 0–6 m depth).
Included On The Following Pages:
This image is not featured in any collections.
Source Information
license

copyright

Sérgio P. Ávila, Julia Sigwart
bibliographic citation

Ávila S, Sigwart J (2013) New records for the shallow-water chiton fauna (Mollusca, Polyplacophora) of the Azores (NE Atlantic) ZooKeys 312: 23–38
original

partner site

ID

zookeys.312.4768.sp_6_p_1