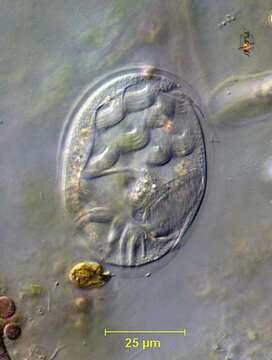 Description:
Portrait (ventral view) of the marine hypotrich ciliate, Aspidisca leptaspis (Fresenius, 1865).  The cell outline is broadly oval and strongly dorsoventrally flattened. The pellicle is rigid and transparent. There are 2 left-anterolateral and several smaller posterior spines. The posterior spines vary from very small to quite prominent. In this individual they are not discernable. There are seven large and one small frontoventral (FV) cirri (including one buccal cirrus). There are five transverse cirri. The left-most transverse cirrus may be subdivided into several small bundles.  There is a small left anterolateral "adoral" zone of membranelles (AZM1), which is actually separate from the peristome. The more prominent adoral zone of membranelles (AZM2) borders the large obliquely situated left posterior peristome. There are longitudinal rows short dorsal cilia on subtle dorsal ridges. The macronucleus is horseshoe-shaped. Collected from a commercial saltwater aquarium in Boise, Idaho February 2003. DIC optics. 
Included On The Following Pages:
This image is not featured in any collections.
Source Information
author

Bill Bourland

provider
original

partner site

ID

27474832