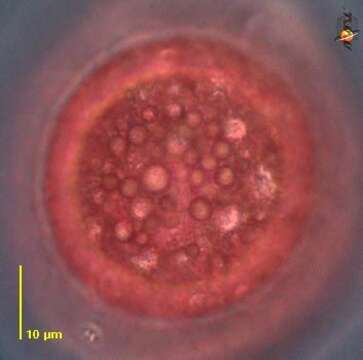 Description:
Chromatium (chrome-ace-ee-um) is a red sulphur bacterium (or purple sulphur bacterium). It is found in sediments above the reduced zone. It uses solar energy to assist in the oxidation of hydrogen sulphide producing elemental sulphur which is deposited within the bacterial cell as sulphur granules. Photosynthetic pigments are pink which give the cell its distinctive colour. It is one of a variety of bacteria which metabolise sulphur compounds and deposit sulphur granules within the cells - both red (such as Thiocystis), and colourless (such as Beggiatoa, Achromatium, Thiovulvum, and others). Not all Chromatium are as large as this cell. Phase contrast.
Included On The Following Pages:
This image is not featured in any collections.
Source Information
author

David Patterson, Linda Amaral Zettler and Virginia Edgcomb

provider
original

partner site

ID

27471064