Skull and shoulder-girdle restorations of Tristichopterids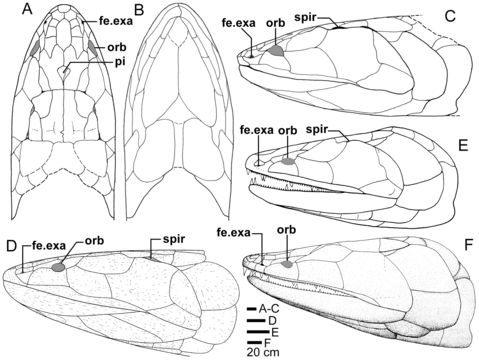 Description:
Summary[edit] DescriptionAPI English: Skull and shoulder-girdle restorations. A–C, Edenopteron keithcrooki gen. et sp. nov. Restoration of head and shoulder-girdle in dorsal (A), ventral (B) and left lateral (C) views (based on the 3-D life-sized model shown in Fig. 22). D, left lateral view of Eusthenodon waengsjoei, shoulder-girdle omitted (after [19]: fig. 26A). E, left lateral view of Cabonnichthys burnsi (after [16]: fig. 15B). F, left lateral view of Mandageria fairfaxi (after [15]: fig. 21b). Date 6 March 2013 Source A Gigantic Sarcopterygian (Tetrapodomorph Lobe-Finned Fish) from the Upper Devonian of Gondwana (Eden, New South Wales, Australia). PLoS ONE 8(3): e53871. http://www.plosone.org/article/info:doi/10.1371/journal.pone.0053871 Author Ben Young, Robert L. Dunstone, Timothy J. Senden, Gavin C. Young Permission
(Reusing this file) under the terms of the Creative Commons Attribution License, which permits unrestricted use, distribution, and reproduction in any medium Other versions Derivative works of this file: Cabonnichthys burnsi.jpg Eusthenodon waengsjoei.jpg
Included On The Following Pages:
This image is not featured in any collections.
Source Information
original

partner site

ID

25031700