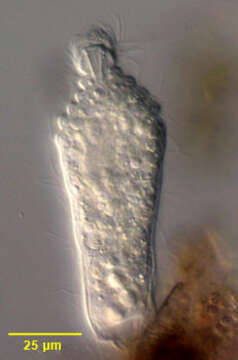 Description:
Portrait of contracted Lagynus elegans (Engleman,1862, Quennerstedt,1867), a colorless Prostome ciliate found in sapropelic habitats. The cell body is flask-shaped with a flexible anterior neck marked by concentrically decreasing transverse ciliated furrows (seen well in this contracted individual). A conical head region bears longer cilia and an inconspicuous "dorsal brush" of 3 to 4 groups of kineties between cytopharyngeal nematodesmata (seen well here) and the first perioral ciliary ring. This feature distinguishes Lagynus from Lacrymaria, which has a short longitudinal dorsal brush of cilia on the neck region. Somatic kineties are longitudinal. The silverline system of Lagynus is also different from that of Lacrymaria. The neck region of Lagynus elegans is much less extensible (about 1/3 body length) than that of Lacrymaria olor. The posterior is often flattened. There is a single ellipsoid macronucleus and adjacent micronucleus about mid-body. There is a large posterior terminal contractile vacuole. Multiple food vacuoles are scattered through the cytoplasm. The cytoplasm L. elegans, like that of some other anaerobic ciliates, contains methanogenic bacilli and hydrogenosomes. L. elegans feeds on ciliates, cyanobacteria and other bacteria. Collected from sapropelic sediments of a freshwater aquaculture tub (pH 7.56) at a Koi farm near Boise, Idaho October 2003. DIC optics.
Included On The Following Pages:
This image is not featured in any collections.
Source Information
author

William Bourland

provider
original

partner site

ID

27474921