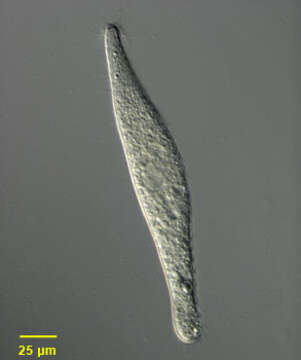 Description:
Portrait of extended Lagynus cucumis, a colorless Prostome ciliate found in sapropelic habitats. L. cucumis is synonymous with Lacrymaria cucumis (Penard, 1922) and Lacrymaria putrina (Kahl, 1926). Lagynus cucumis is longer and more slender than L. elegans with about five less pronounced ring-like furrows at the anterior end. The conical head region is much smaller than that of L. elegans. The apical cytostome is supported by fine trichites (seen here). The elongate cell body is flexible, contractile and slightly flattened. Somatic kineties are longitudinal and uniform. Slightly longer cilia surround the anterior end . A bean-shaped macronucleus with a central transverse crease is located in the midportion of the cell (seen well here). There is a single posterior terminal contractile vacuole (not seen in this image). Collected from sapropelic sediments of a freshwater aquaculture tub (pH 7.56) at a Koi farm near Boise, Idaho October 2003. DIC optics.
Included On The Following Pages:
This image is not featured in any collections.
Source Information
author

William Bourland

provider
original

partner site

ID

27474917