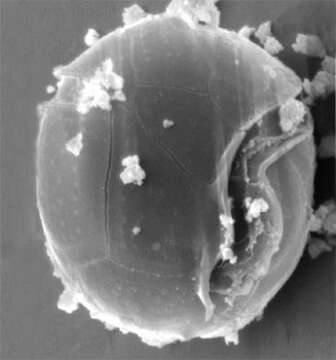 Description:
Amphidiniopsis korewalensis cells round to oval from the ventral side, dorso-ventrally flattened, 24 - 35 microns long, 20-30 microns wide, 15 - 23 microns broad. Thecal plates present: an apical pore, 4 apical plates, 3 anterior intercalary plates, 6 precingular plates, an x plate, 4 cingular plates, possibly 4 sulcal plates, 6 postcingular plates, 2 posterior plates. Epicone small and relatively flat, hypocone large and rounded. Average epicone/hypocone ratio 0.2-0.25. A small apical hook points to the left lateral cell side, over the round apical pore. Plates quite thin and boundaries not visible with the light microscope, covered in scattered small pores, approximately 0.2 microns diameter. Small protrusions often present on the posterior sulcal plate. Possesses no chloroplast or eyespot. Nucleus large (20-25 x 12-15 microns), elliptical and positioned centrally. Numerous colourless globules present
Included On The Following Pages:
This image is not featured in any collections.
Source Information
author

Shauna Murray

provider
original

partner site

ID

27474278