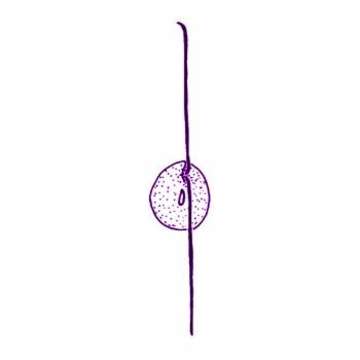 Description:
Glissandra innuerende Patterson and Simpson, 1996. Gliding protist with almost spherical body measuring 5 - 8 microns in diameter, with two flagella, inserting laterally, side by side and subapically into a small ventral groove. The groove extends to the front margin of the cell being occasionally evident as a slight discontinuity. Flagella about equal in length and about 2.5 times body length. Both flagella lie against the substrate in gliding cells, with one directed anteriorly and the other posteriorly. Only the tip of the anterior flagellum moves back and forward during gliding, with the remainder of the flagellum pointing stiffly in the direction of motion (similar to behaviour of the flagellum during gliding in the euglenid genus Petalomonas). Cytoplasm often filled with small granules.
Included On The Following Pages:
This image is not featured in any collections.
Source Information
author

Won Je Lee

provider
original

partner site

ID

27472956