Medusae of world-vol03 pl59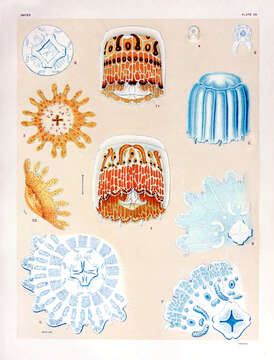 Description :
Description: Italiano: Figg. da 1 a 10 sono di Linuche unguiculata, fig. 11 di Linuche aquila. Vista laterale di medusa adulta, Keys West, Florida, 1 giugno 1906. Vista laterale di una medusa adulta che mostra le scanalature dell'esombrella. Tortuga, Florida, 12 maggio 1906. Vista orale di un'efira di 2mm di diametro. Nassau, 10 maggio 1906. Organo sensore marginale dell'efira della fig.3 Vista orale di un'efira di 7mm di diametro con 4 paia di gonadi che iniziano a svilupparsi. Bahamas, 5 aprile 1907. La bocca dell'efira della fig.5. Gonadi e cirri gastrici. Vista orale di una medusa adulta con le 16 tasche radiali dello stomaco centrale. Non c'è canale marginale ad anello. Organo sensore marginale di una medusa adulta. Vista laterale di un'efira di 3mm di diametro, si vedono i tentacoli spuntare. Bahamas, 14 marzo 1893. Linuche aquila, atollo di Wailangilala, isole Fiji, sud Pacifico. 20 novembre 1897.English: Figures 1 to 10 are of Linuche unguiculata, figure 11 of Linuche aquila. Side view of adult medusa. Keys West, Florida, June 1, 1906. Side view of mature medusa showing sculpturing of exumbrella. Tortugas, Florida, May 12, 1906. Oral view of an ephyra, 2mm in diameter. Nassau Harbor, Bahamas, May 10 1906. Marginal sense-organ of the ephyra shown in fig.3 Oral view of an ephyra, 7mm in diameter, showing 4 pairs of gonads beginning to develop on both sides of each perradius, and masses of brown cells. Ragged Island, Bahamas, April 5, 1907. The mouth-part of the efira shown in fig.5. Showing gonads and gastric cirri. Oral view of a mature medusa, showing the 16 radial pouches of the central stomach. There is no marginal ring-canal. Marginal sense organ of a mature medusa. Side view of an ephyra 3mm in diameter, showing the beginning of the tentacles. Nassau Harbor, Bahamas, March 14, 1893. Linuche aquila, Wailangilala atoll, Fiji Islands, South Pacific. November 20, 1897. Side view. Date: 25 August 1910. Source: Medusae of the world on Open library. Author: Mayor, Alfred Goldsborough.
Inclus dans les pages suivantes :
Cette image ne figure dans aucune collection.
Informations de provenance
créateur

Mayor, Alfred Goldsborough

source
original

site partenaire

ID

e3173e0437511f731b093df8aba9338c