Parasite150059-fig2 - Head of Ricinus vaderi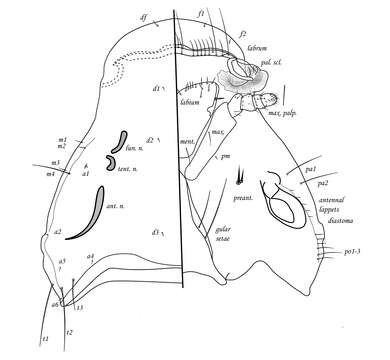 Description :
Description: English: Figure 2 of paper, head only Head of Ricinus vaderi Valan, 2016, ♀ from Melanocorypha calandra. Head, dorsoventral view: df, dorsal setae of the frons; f, ventral setae on the frons; a, setae on the temples dorsally; d, setae on the dorsum of the head; t, setae positioned dorsolaterally on temples; m, setae dorsoventrally on the marginal carinae; po, postocular setae; pa, paraantennal setae; preant., preantennal setae; ment., mental setae; pm, paramental setae; max. palp., maxillary palpi; max., maxillary setae; pal. scl., pallete sclerite; lun. n., lunar nodi; tent. n., tentorial nodi; ant. n., antennal nodi. Scale bar is 0.2 mm. Date: 22 February 2016. Source: (2016). "Chewing lice of genus Ricinus (Phthiraptera, Ricinidae) deposited at the Zoological Institute of the Russian Academy of Sciences, Saint Petersburg, Russia, with description of a new species". Parasite 23: 7. DOI:10.1051/parasite/2016007. ISSN 1776-1042. Author: Miroslav Valan, Oldrich Sychra and Ivan Literak.
Inclus dans les pages suivantes :
Cette image ne figure dans aucune collection.
Informations de provenance
licence

droit d'auteur

Miroslav Valan, Oldrich Sychra and Ivan Literak
créateur

Miroslav Valan, Oldrich Sychra and Ivan Literak

source
original

site partenaire

ID

c3981e64ae313cfa16c351eae45a03b5