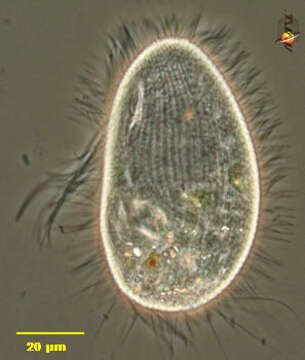 Description :
Pleuronema (ploo-row-knee-ma) is a scuticociliate - a group that distinguished by a well developed undulating membrane associated with the mouth. The scuticus refers to the hook -shape of the line of cilia associated with the mouth, and the curve of this hook can be seen as the light curving line to the left near the equator of the cell. The scuticus is used to help capture suspended bacteria which are ingested as food. In this individual, the membrane (or sail) is not extended. Mostly marine. Phase contrast.
Inclus dans les pages suivantes :
Cette image ne figure dans aucune collection.
Informations de provenance
auteur

David Patterson, Linda Amaral Zettler and Virginia Edgcomb

fournisseur
original

site partenaire

ID

27470845