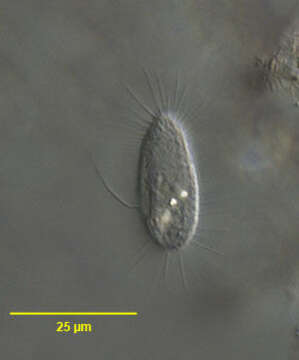 Description :
Portrait (left side) of the pleuronematine scuticociliate, Ctedoctema acanthocryptum (Stokes, 1884). The species name has been corrected by Foissner from acanthocrypta to acanthocryptum to agree with the neuter genus name.Small elongate to oval ciliate that is slightly dorsoventrally compressed. There is a prominent paraoral membrane, which begins subapically and extends approximately two-third down the length of the cell in a shallow groove. The cytostome is at the posterior end of this groove. There is a three part adoral zone of membranelles on the left of the peristome. M1 is a longitudinal array of dikinetids from the sub-apical pole to about midway down the cell. M2 and M3 are small, oblique patches of kinetids posterior to M1. Somatic ciliation uniform. There is a small unciliated "frontal plate" at the anterior apex. The edge of the pellicle appears slightly serrated. Numerous trichocysts present. Ovoid macronucleus in anterior body half. The contractile vacuole is posterior subterminal. Collected from freshwater pond near Boise, Idaho October 2004. DIC optics.
Inclus dans les pages suivantes :
Cette image ne figure dans aucune collection.
Informations de provenance
auteur

William Bourland

fournisseur
original

site partenaire

ID

27474770