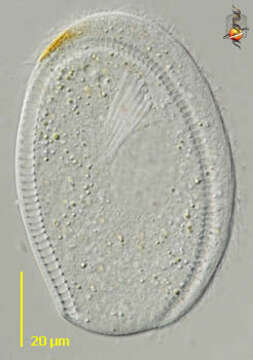 Description :
Chlamydodon (clam-ee-doe-don), alga-eating hypostome ciliate. This cell was photographed immediately after dividing. During the division process, the cells do not eat. Food ingested before division is initiated is digested, with the rest that the cytoplasm is very empty and the major organelles can be seen with some clarity: orange zone, ingestion apparatus, macronucleus and railway track. Differential interference contrast.
Inclus dans les pages suivantes :
Cette image ne figure dans aucune collection.
Informations de provenance
auteur

David Patterson, Linda Amaral Zettler and Virginia Edgcomb

fournisseur
original

site partenaire

ID

27471060