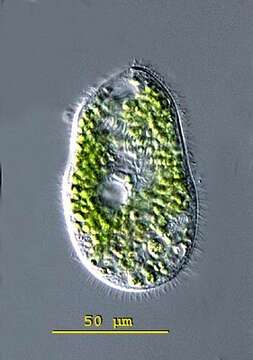 Description :
Thylakidium (thigh-lack-kid-ee-um) has an ovoid body that is uniformly ciliated, anteriorly truncated and posteriorly rounded. The cytoplasm is usually full of green endosymbiotic algae. The deep peristomial cavity opens apically and is lined out with membranelles which wind clockwise around the apex of the cell. The cytopharynx is bent towards the animal's left. The macronucleus is rounded and there is a single laterally placed contractile vacuole. Thylakidium can be confused with Bursaria and Bursaridium. This specimen was collected in freshwater ponds near Konstanz, Germany. The contractile vacuole of Thylakidium pituitosum is located ventrally in the middle of the cell. The cell is filled up with green endosymbiotic algae. Differential interference contrast.
Inclus dans les pages suivantes :
Cette image ne figure dans aucune collection.
Informations de provenance
auteur

Martin Kreutz

fournisseur
original

site partenaire

ID

27473446