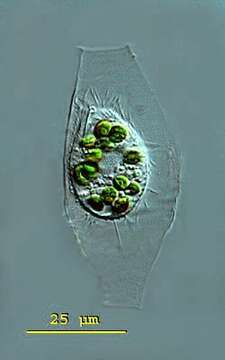 Description :
Calyptotricha (kah-lip-toe-trike-a) pleuronemoides is an ovoid to pyriform ciliate. The ciliate forms a transparent lorica. The lorica is tube-like and has apertures at both ends. The middle the tube can have parallel sides or a central bulbous region in which the ciliate is housed. The undulating membrane of the oral aperture stretches down the right side of the body to form a pouch in the posterior body half. Extrusomes are present. There is a conspicuous caudal cilium. Contractile vacuole in posterior body region. The macronucleus is spherical with attached micronuclei. Several endosymbiotic algae are visible and the conspicuous caudal cilium. Ciliate measuring 28 microns, lorica 64 microns. This specimen was collected in freshwater ponds near Konstanz, Germany. Differencial interference contrast.
Inclus dans les pages suivantes :
Cette image ne figure dans aucune collection.
Informations de provenance
auteur

Martin Kreutz

fournisseur
original

site partenaire

ID

27473374