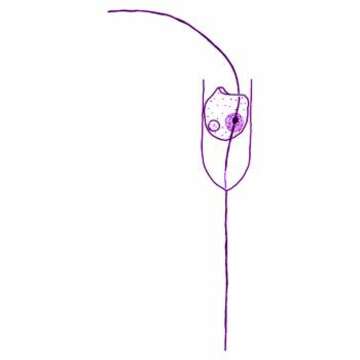 Description :
Bicosoeca vacillans Stole, 1888. Bicosoeca cells located in a stalked lorica, the chamber of which measured 17-25 microns long. The lorica chamber was approximately cylindrical with a slightly pointed posterior and a pedicel of 1-1.5 times the lorica length. Loricas may differ slightly in shape. The lorica wall was most frequently curved slightly outwards at the aperture to a greater or lesser extent and in some cases the lorica was waisted below the aperture. The lorica had fine horizontal bands spaced about 0.4 microns apart, with numerous fine perpendicular fibres in each band. Cells were sub-spherical and had a flattened indistinct peristome. The anterior flagellum was about 3 times the cell length and held at an angle to the longitudinal axis of the cell. The posterior flagellum was attached to the base of the lorica via a fine thread.
Inclus dans les pages suivantes :
Cette image ne figure dans aucune collection.
Informations de provenance
auteur

Won Je Lee

fournisseur
original

site partenaire

ID

27472834