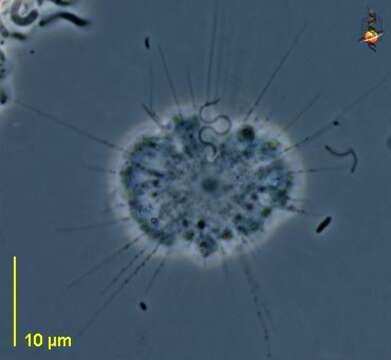 Description :
Ciliophrys (silly-off-rees), a pedinellid stramenopile, with a single flagellum. The cell may exist as a non-swimming form with radiating arms, and with the flagellum inactive or beating in a languid figure of 8 motion. The arms can be resorbed, and the cell can then swim with the flagellum pulling the cell forward. This is the heliozoon form, with a nucleus in the centre of the cell. Phase contrast.
Inclus dans les pages suivantes :
Cette image ne figure dans aucune collection.
Informations de provenance
auteur

David Patterson

fournisseur
original

site partenaire

ID

27470477