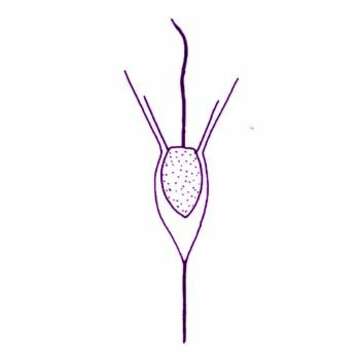 Description :
Acanthoeca spectabilis Ellis, 1930. Cells are 3.5-5 microns in length, elongate with a pointed posterior, and fit closely to the main chamber of the lorica. Electron microscopy reveals that these cells are enclosed by fibrous material. The pseudopodial collar is shorter than the cell and the flagellum projects slightly from the top of the lorica. The main chamber of the lorica is conical and tapers posteriorly, giving rise to a pedicel. Costae in the main chamber give rise to longitudinal spines anteriorly. Fibres were present and arranged in the same pattern as costal strips in normal cells, except that, being less rigid, the spines are irregular and crumpled. The conical shape of the main chamber and the pedicel appears to be maintained by a membranous structure in the cells with a fibrous lorica.
Inclus dans les pages suivantes :
Cette image ne figure dans aucune collection.
Informations de provenance
auteur

Won Je Lee

fournisseur
original

site partenaire

ID

27472765